TIMIO is the ultimate screen-free teaching toy for babies, toddlers, and young kids
TIMIO is an educational toy invented by a father that offers more than six hours of learning, in eight languages and without the use of addictive screen-time.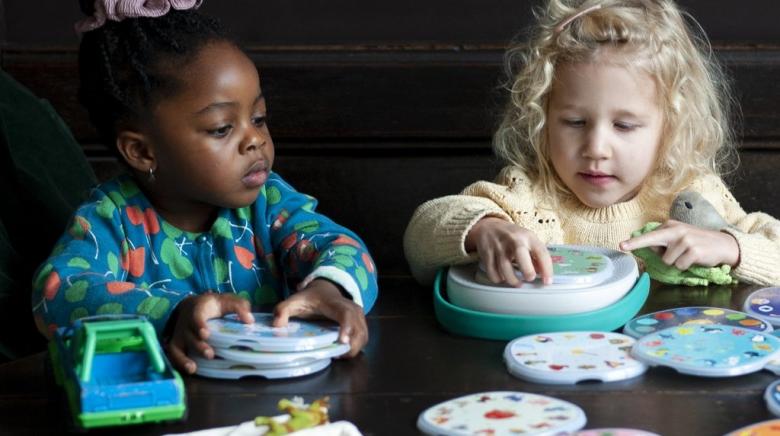 TIMIO is the best toy for babies and toddlers to learn, because it also grows with your child
TIMIO is the best educational toy for kids of all ages. Though it is intended for children ages 2 and above, many babies enjoy the interactive touch and sounds of TIMIO. In fact, TIMIO was designed specifically to grow with your child. 
Each disc pack for your child's TIMIO includes fun, engaging content designed for multiple age groups. The disc sets cover multiple subjects in 8 languages: English, Spanish, French, German, Dutch, Chinese, Italian, and Portuguese. 
TIMIO is easy for your child to use. They simply place a disc on TIMIO and tap an image. Toddlers and younger children can connect sounds and images that turn into vocabulary while older children can answer quizzes, listen to stories, or jam out to their favorite music.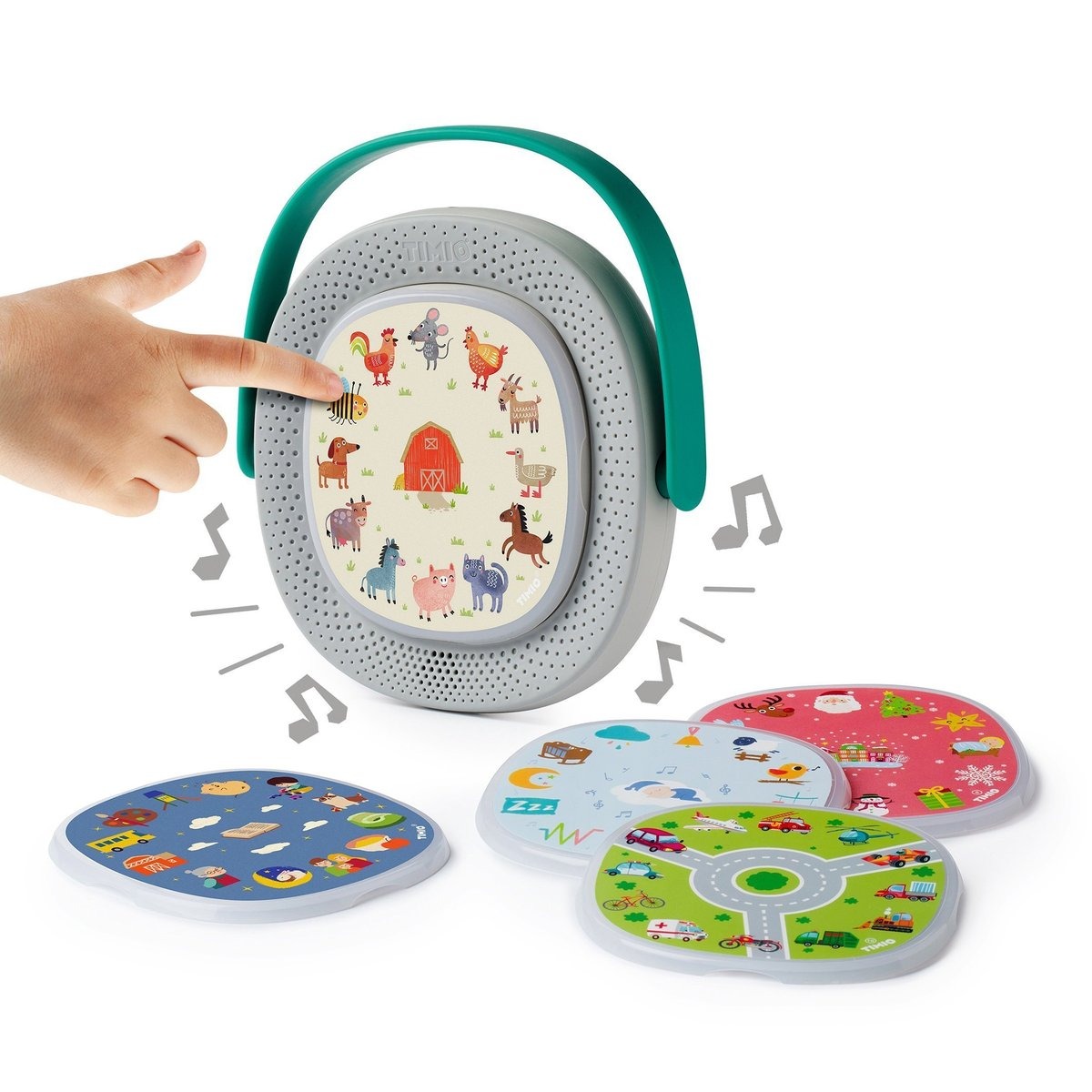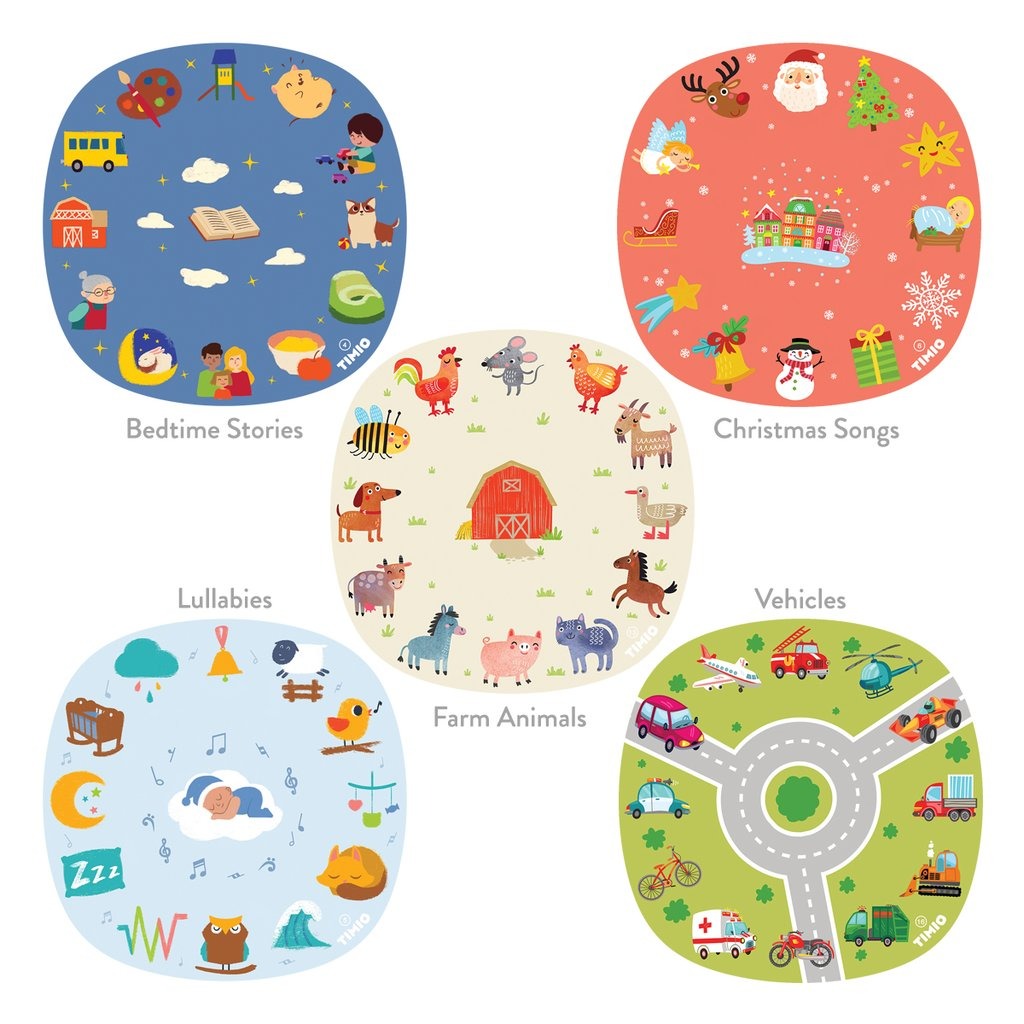 TIMIO is the best toy for children to discover new languages, learning about diversity and cultural awareness. That is why TIMIO has received rave reviews from parents all over the world. 
For children with developmental issues, TIMIO has been proven by multiple users worldwide to help improve cognitive function. TIMIO helps children from all walks of life learn and interact without the over stimulation that is typical of screens. TIMIO is a versatile toy, perfect for your child's unique and beautiful mind.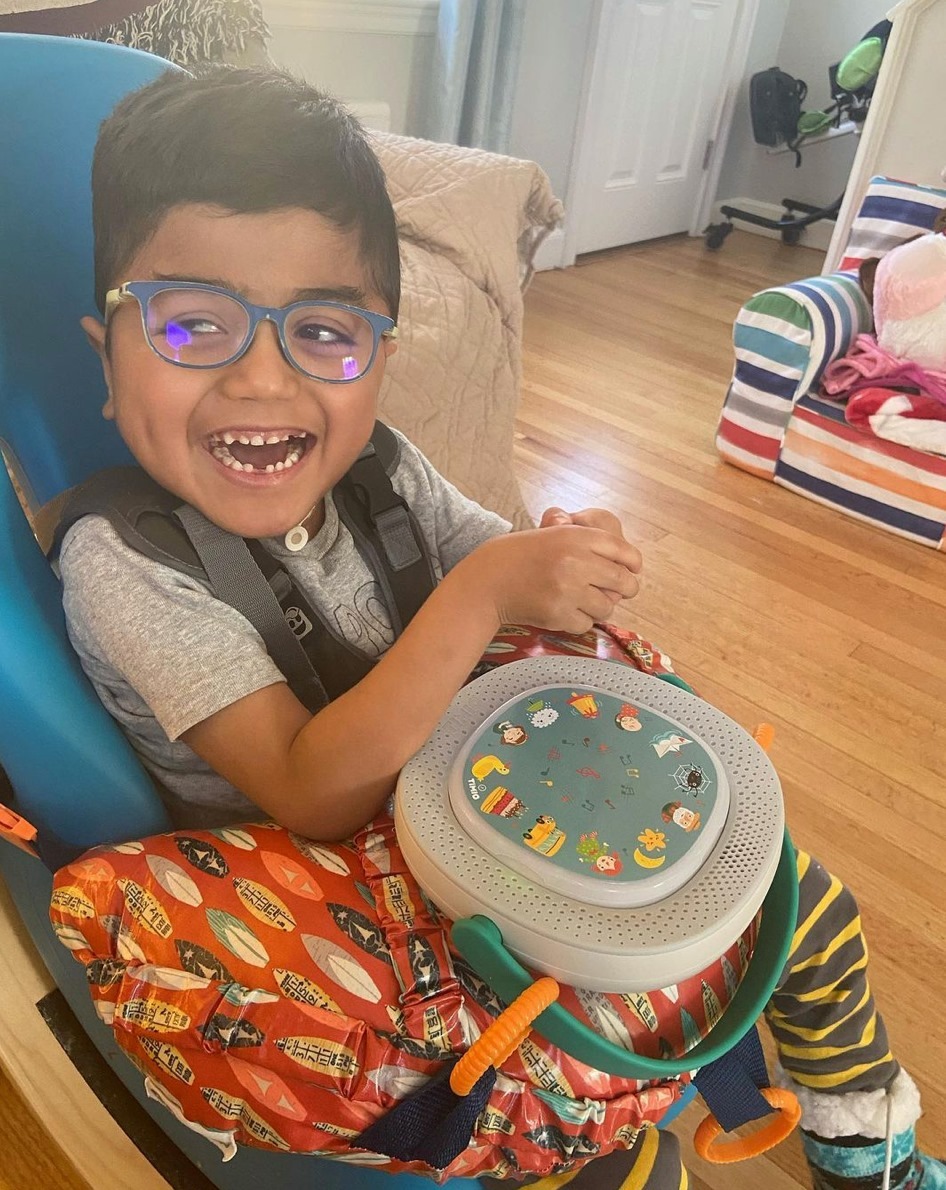 TIMIO was developed by a father, and it is a family toy store that listens to families
TIMIO is an innovative learning toy, thought up and developed in the 2010s. It was originally funded by Kickstarter, and kind donations from intrigued investors worldwide made TIMIO come to life.
TIMIO was invented by a father in Germany who envisioned educational toys that would grow with children from babies, to toddlers, to young children. He also wanted to create the opportunity for parents worldwide to buy toys for toddlers that were educational without being bulky or requiring a screen.
Developed with quality in mind, TIMIO has a number of family-friendly features including:
A headphone jack
3 Volume settings
An ergonomic carry handle
Toddler-proof magnetic discs
12 led light indicators: telling you when the batteries are low
Safe plastics
Runs on 3 AA batteries
1 Year Warranty
Designed in the Netherlands, and made to last
Since its introduction in 2018, TIMIO has become an international toy brand. And because TIMIO founder, Basile Fattal understands a busy lifestyle, TIMIO was designed to be a portable toy, weighing only 13 oz., so it's easy to carry and take with you on the move. TIMIO doesn't need frequent charging and comes with a headphone jack for car trips or plane rides. The discs are durable and easy to swap out on the go. And since TIMIO runs on batteries, parents can plan ahead by keeping a spare set on hand.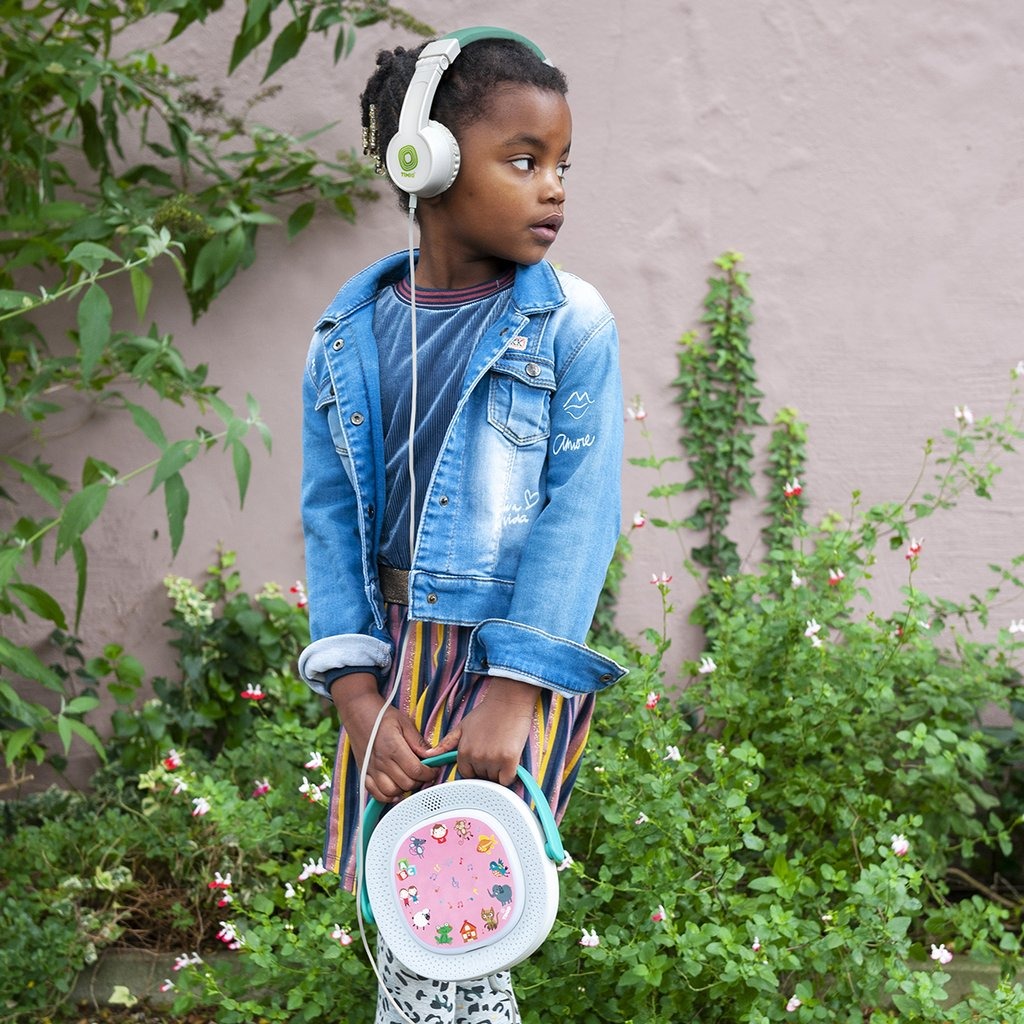 TIMIO headphones

TIMIO is the best educational toy proven to help children learn new languages 
Research shows that learning a second language boosts problem-solving, critical-thinking, and listening skills in children. Because learning multiple languages opens up new thinking skills in a developing mind, it also helps improve memory, concentration, and the ability to multitask.
TIMIO can not only help your child develop their native language abilities, it also teaches them the basics of seven more languages. Children love to become global citizens, understanding how the world around them works.
Choosing another language on TIMIO is simple enough for your child to do on their own. They simply need to hold the globe icon for three seconds, and release it when they hear their language of choice.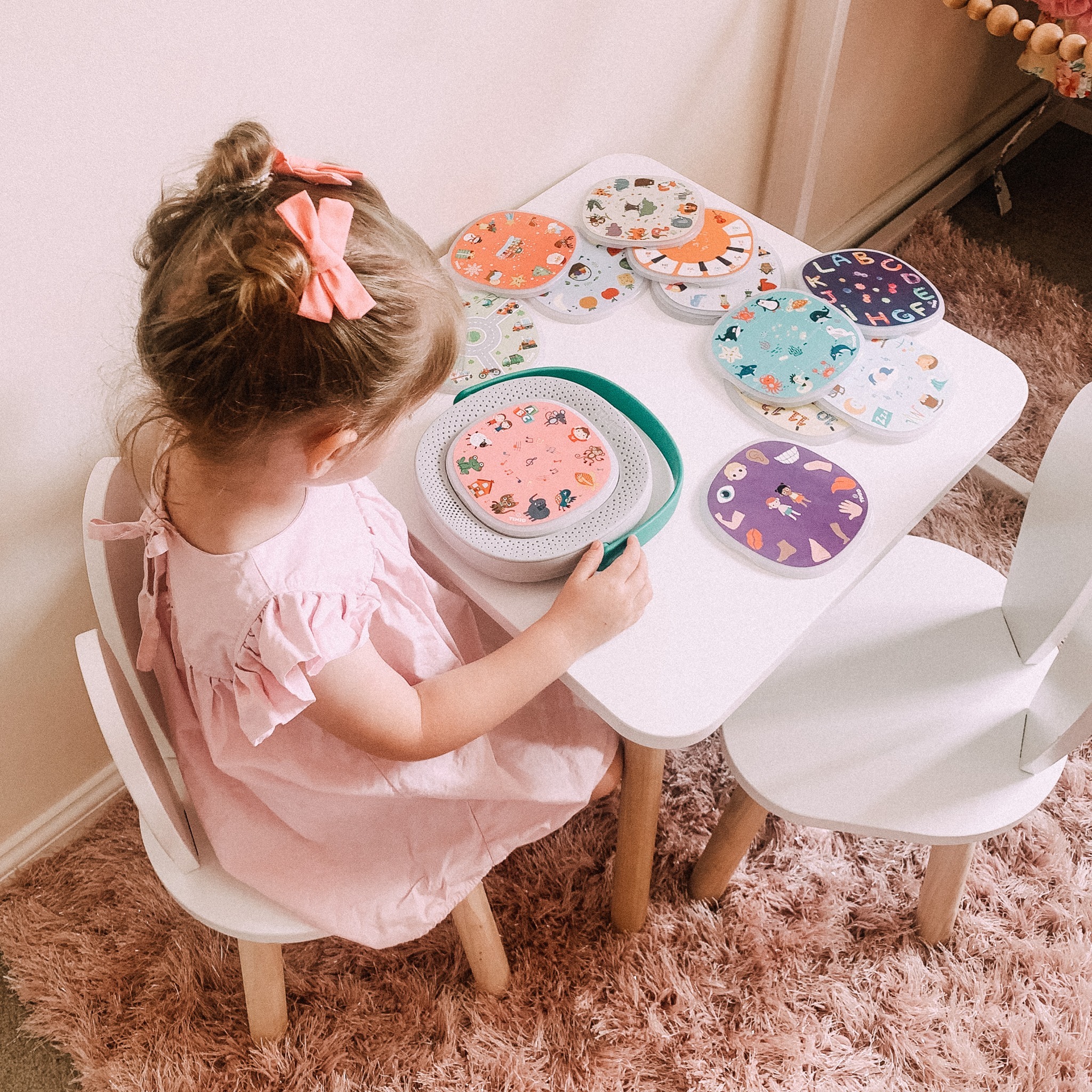 TIMIO Frequently Asked Questions
No matter where you are in the world, TIMIO is one of the best educational toys for your child's language development.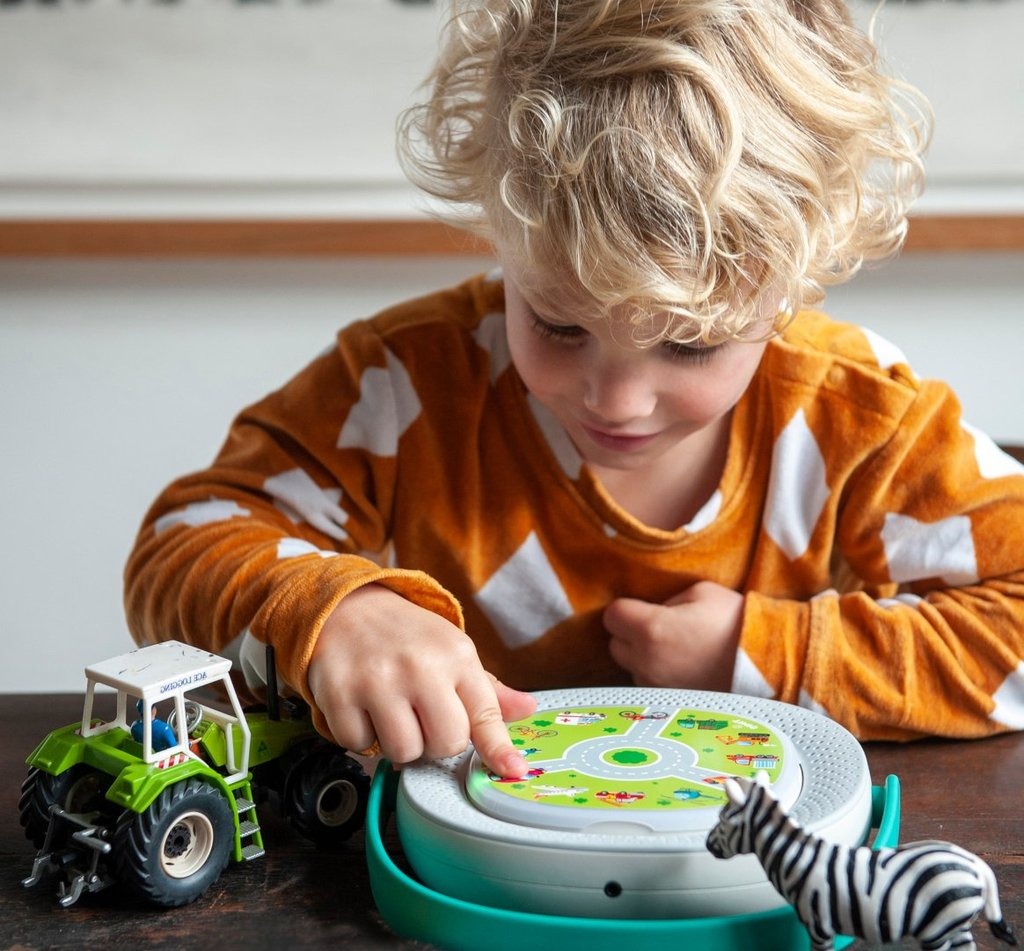 Shipping & Delivery
Shipping costs are calculated according to the destination country on check out. If an item is out of stock, the customer will be informed as soon as possible. Timio offers free shipping to the USA on all orders above $130. For orders to Canada, Timio charges $9.
 
TIMIO ships to the USA in 2-5 business days. Customers in Australia can expect delivery within 2–8 working days. Customers in New Zealand can expect delivery within 3-14 working days. Please refer to their SHIPPING page for more details.