Evolve Skateboards manufactures high-quality electric skateboards right in Düsseldorf
Evolve Skateboards has distributed carefully designed and stylish electric skateboards from their distribution centre in Düsseldorf, Germany, for over ten years.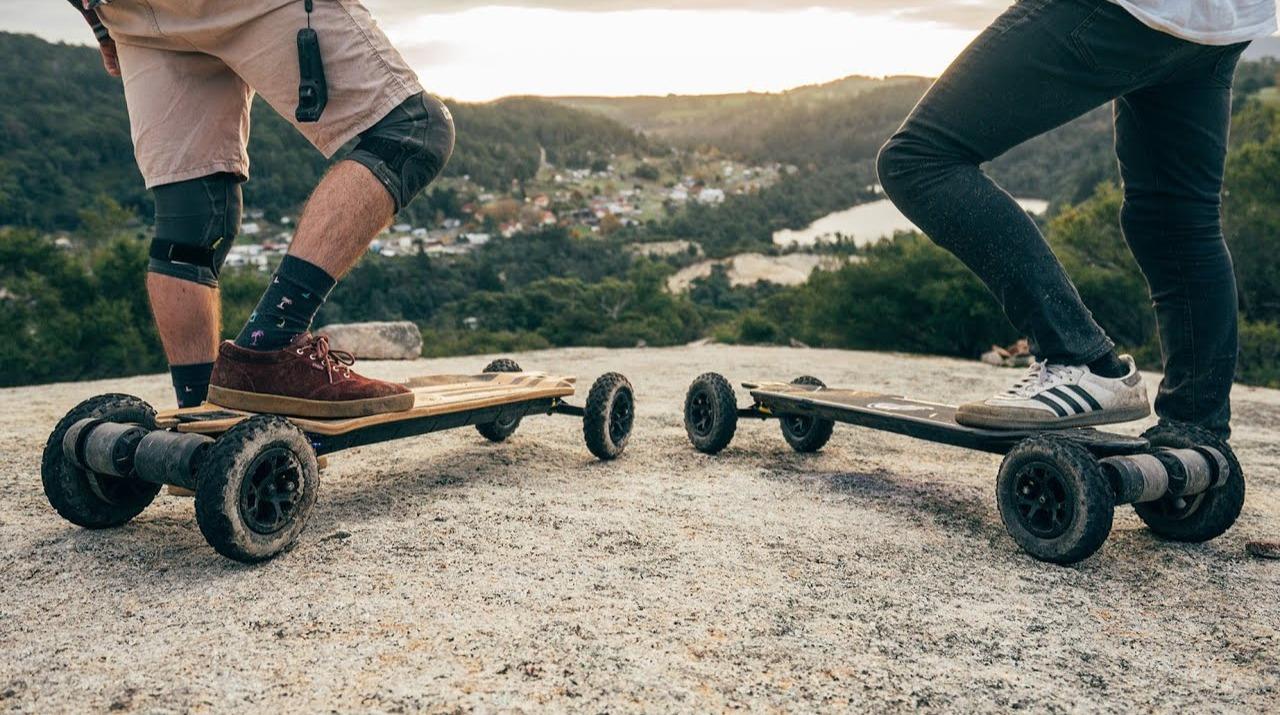 If you've been looking for a high-end selection of electric skateboards that will give you a great ride while looking awesome, Evolve Skateboards is a skateboard shop that can meet your needs. They only stock a few electric skateboards but design, test, and optimise each one until they're perfect.
They also have plenty of information describing each electric skateboard, as well as a range of high-resolution photographs so you can see each board up close. I'll tell the story of Evolve Skateboards in this post and then examine two of their electric skateboards. That way, you can get a taste of their approach to skateboarding. 
The featured photo shows the Hadean Bamboo All Terrain Skateboard on the left and the GTR Carbon All Terrain Skateboard on the right.
Shop HADEAN BAMBOO ALL TERRAIN     Shop GTR CARBON ALL TERRAIN
Evolve Skateboards: A fusion of passion and obsession from founder Jeff Anning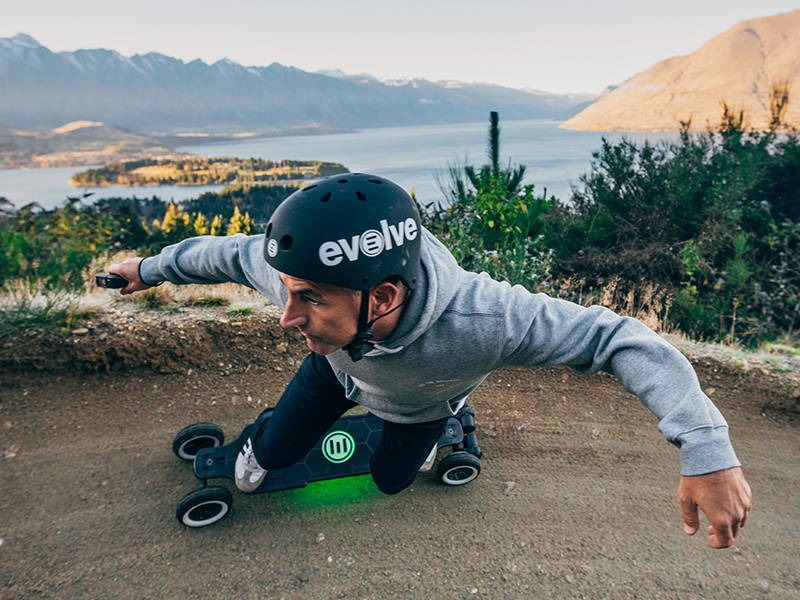 Jeff Anning came up with the idea for Evolve Skateboards on Australia's Gold Coast. He'd discovered electric skateboards for the first time in 2008. Anning found that all of the skateboards he looked at had low-quality parts that made the ride unpleasant. He did more research and found a gap in the market for high-quality electric skateboards. 
Anning developed and tweaked a prototype skateboard over several years until it gave him a riding experience he thought was better than anything he'd had before. Once he shared it with the world, interest poured in. He used money from selling his family home to manufacture and then sell his first electric skateboards. He sold all of them in just two weeks. 
Since that time, the business's mission has been to evolve - hence the name! Evolve Skateboards now has several electric skateboards for sale and continues to create the best experience possible for skateboarders.
Three beautifully crafted electric skateboards from Evolve Skateboards
The Hadean Carbon All Terrain Skateboard, Hadean Bamboo 2in1 Skateboard, and Stoke Electric Skateboard all stand out because they're both visually attractive and unique among skateboards. I'll explain what makes them different in the following three sections.
The Hadean Carbon All Terrain Skateboard 
The Hadean Carbon All Terrain Skateboard is made for adventures. It can go pretty much anywhere you want it to, and will serve you for years to come.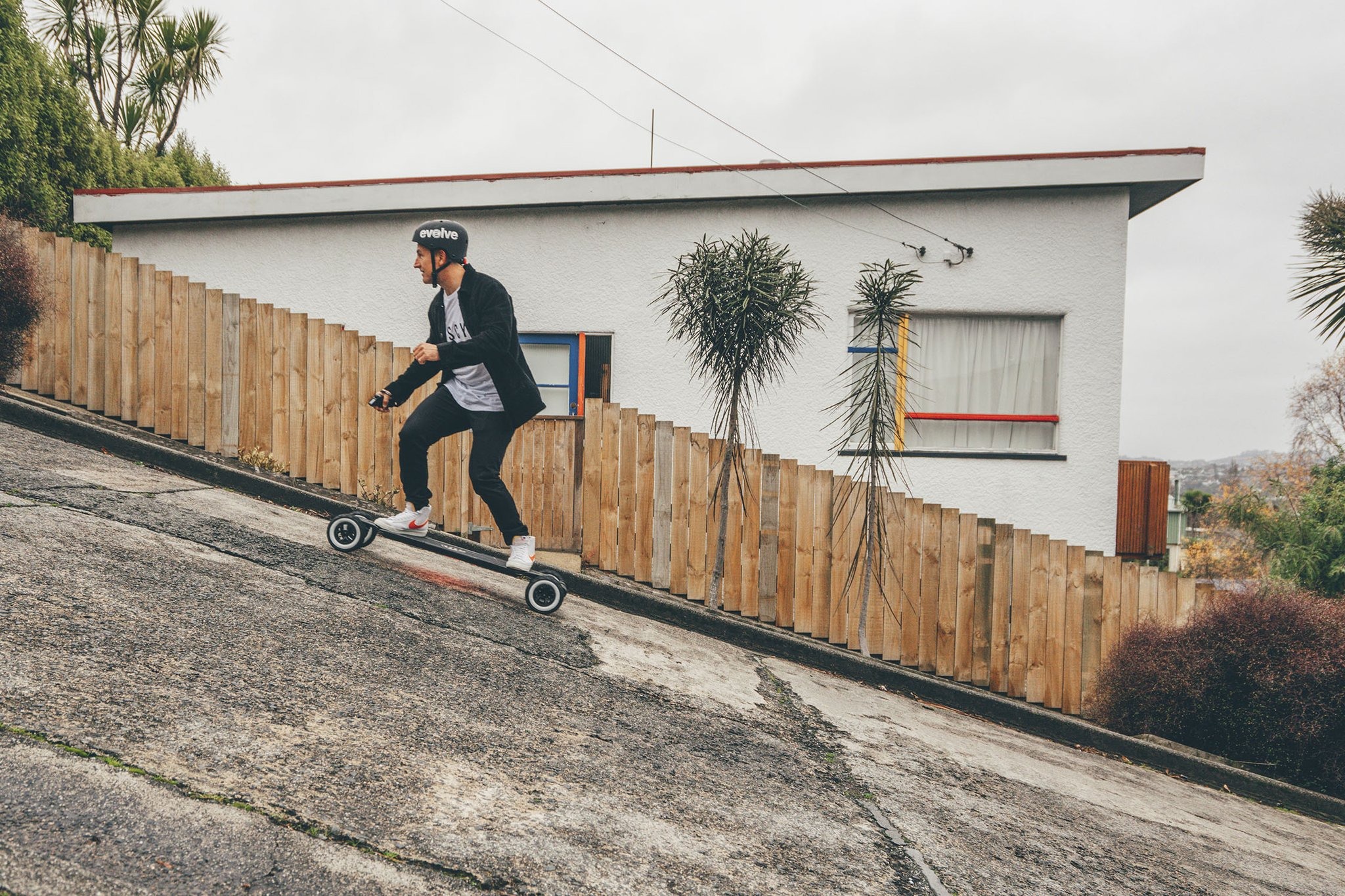 The Hadean Carbon All Terrain Skateboard is made with carbon fibre, the same material used in the construction of supercars. It can travel up to 40km on a single charge, and it has a full-colour LCD remote, and a smartphone app. You can use these to access in-depth customisation options, like adjusting the lighting hue, changing the acceleration and braking curves, and selecting one of four speed modes.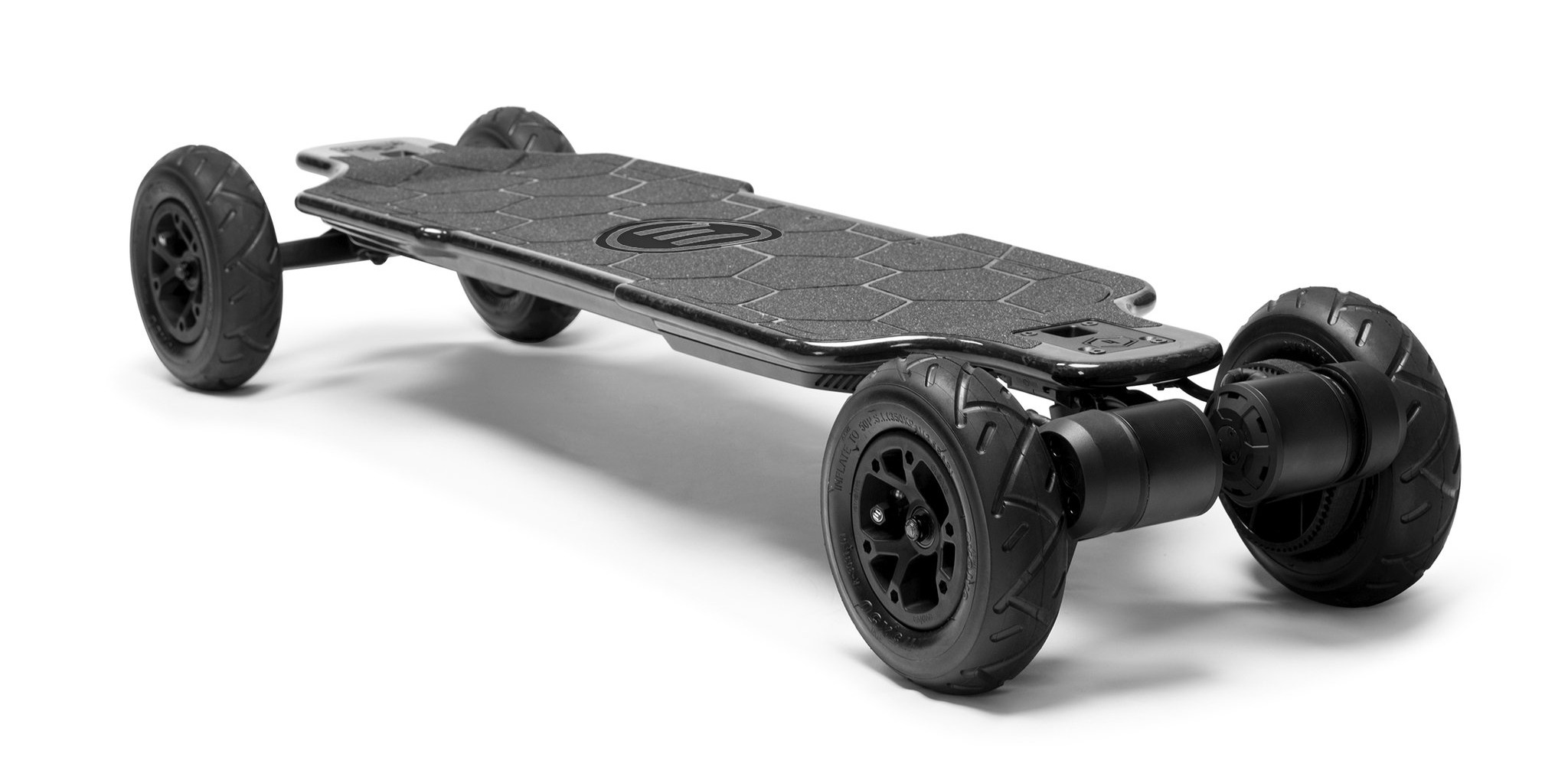 The Hadean Carbon All Terrain Skateboard works like a dream across all terrains because of its strong pneumatic tyres. That opens up new paths you can explore. Paths you may have never imagined riding along with a conventional skateboard.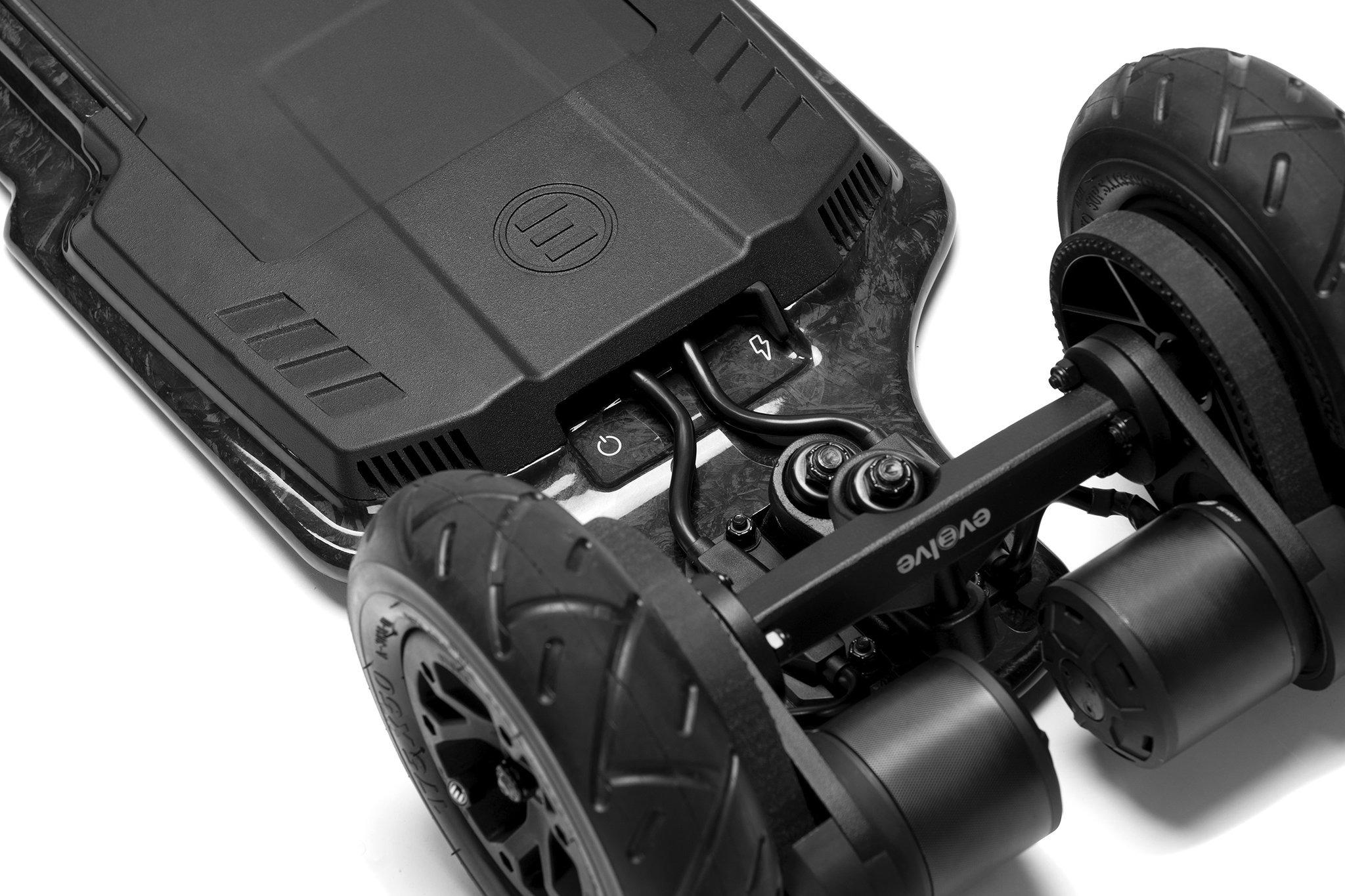 It has many other benefits too, like:
The world's first chassis-style hand-made skateboard deck

Smart lighting with animated sequences

A wide landing plus drop down shoulders to fit all shoe sizes
A top speed of 42kph 
Shop HADEAN CARBON ALL TERRAIN SKATEBOARD
The Hadean Bamboo 2in1 Skateboard 
The Hadean Bamboo 2in1 Skateboard is one you won't want to miss. It's superior to the GTR models, with a greater range, faster speed, and much more power.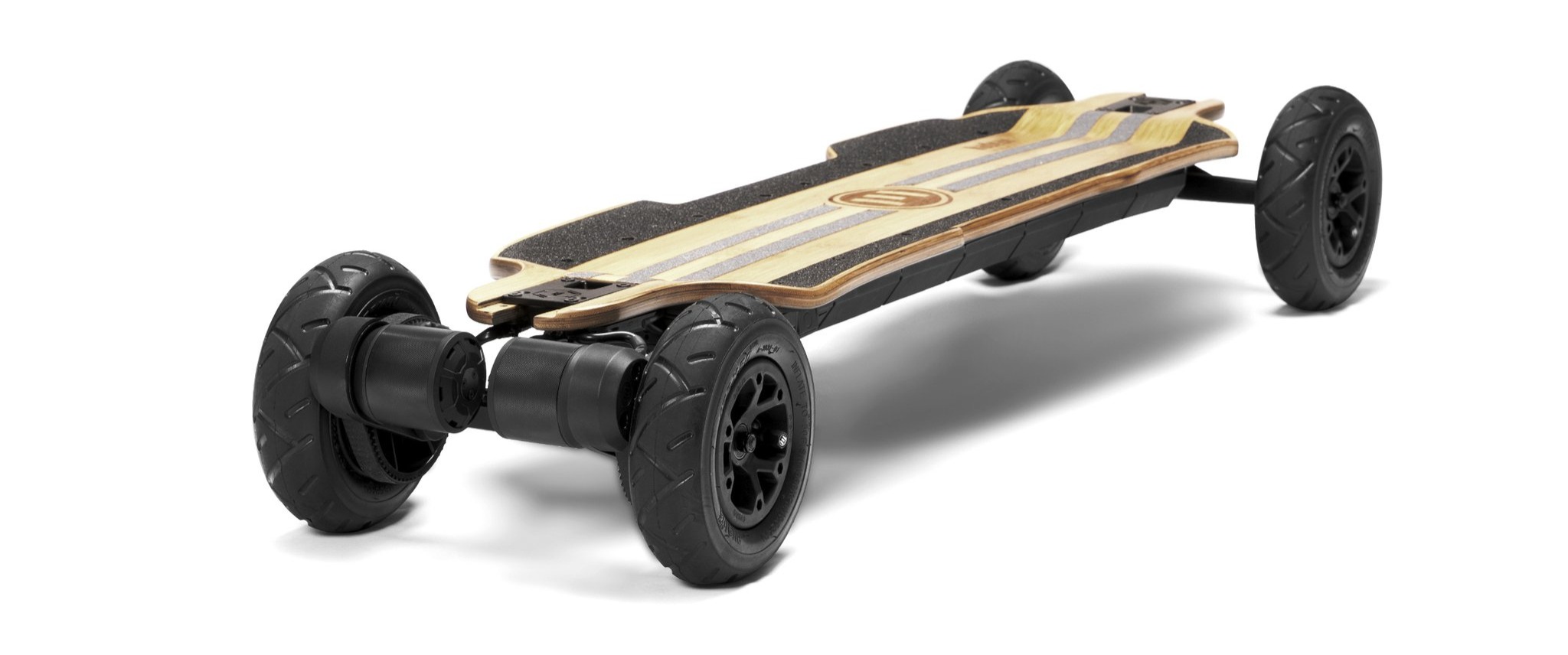 Even the name of the Hadean Bamboo 2in1 Skateboard stands out, sharing the same name given to the period when Earth formed. Evolve Skateboards took everything they learned in the past 13 years and put it all into this board. It's a 2in1 skateboard because you can swap out the tyres with the street wheels tucked at the rear.
The Hadean Bamboo 2in1 Skateboard has bamboo and fibreglass construction, which gives you the ultimate flex without harming the electrical components inside. It also has two channels for dissipating heat from the electrics and a broad landing, making it suitable for large feet. The Hadean Bamboo 2in1 Skateboard goes a step further by including hazard lights. 
These are just a few of the advantages the Hadean Bamboo 2in1 Skateboard provides to riders. Here are a few more:
It has a top speed of 50kph 
When used on streets, it has a range of 65km on one charge 
It comes with a smartphone app you can use to adjust light colours and more 
It has a twin pair of 3000w motors, meaning it can handle very steep gradients 
Shop HADEAN BAMBOO 2IN1 SKATEBOARD
The Stoke Electric Skateboard 
The Stoke Electric Skateboard from Evolve Skateboards provides an alternate shape and appearance compared to the Hadean Bamboo 2in1 Skateboard.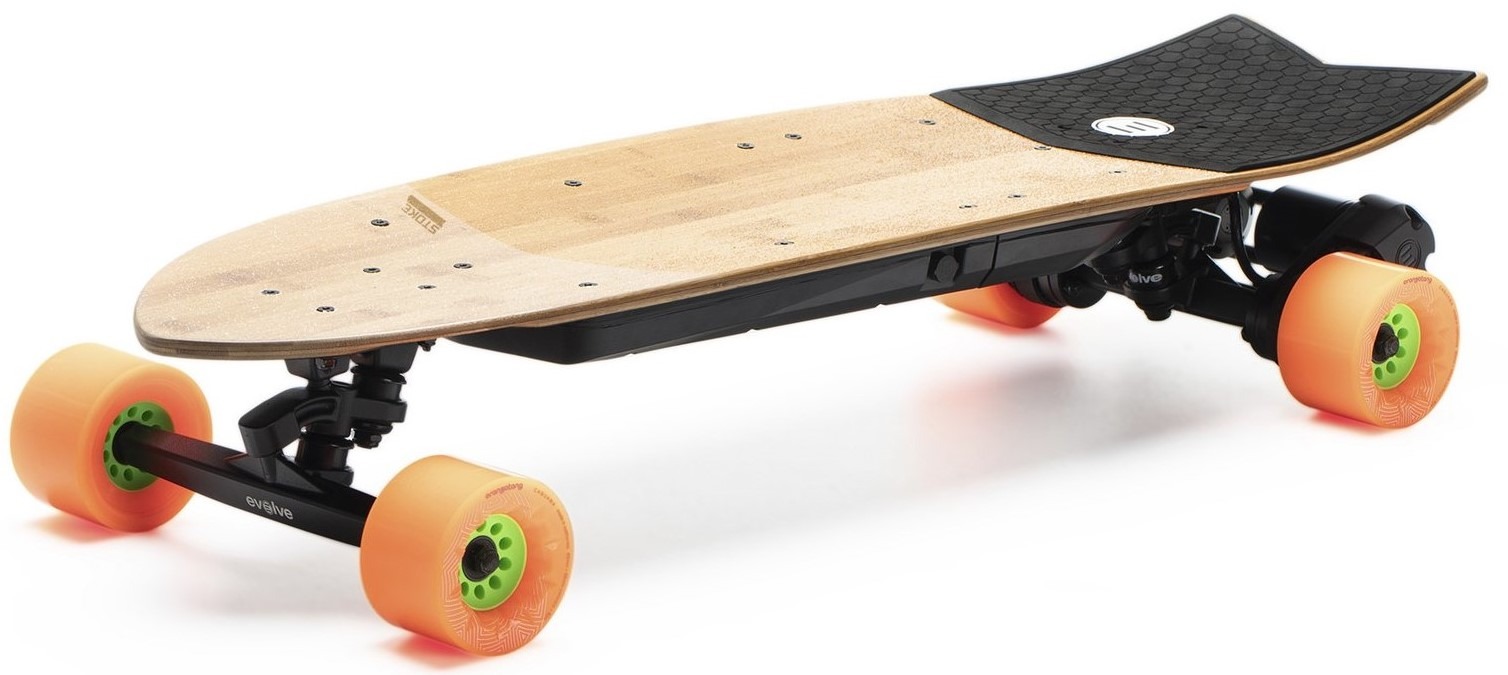 What stands out the most is the wheels. If you like your skateboards to have a burst of colour on them, then the Stoke Electric Skateboard is a great choice. Wheels come in orange, light blue, or purple. 
The Stoke Electric Skateboard is ideal for urban skating, whether that means going off to work, visiting a local store, or just going for a ride around town. It's the smallest skateboard that Evolve Skateboards has available, and it's optimised for curves too. 
Another nice touch for urban areas is the kick-tail at the rear, which helps when moving off from curbs and lips you'll encounter on the streets. The single 3000w motor in the Stoke Electric Skateboard gives you the power you need to skate smoothly.
Some other benefits the Stoke Electric Skateboard has include:
Eco-friendly bamboo and fibreglass construction 
An EVA foam pad at the rear  
Bluetooth and lithium technology that optimises the electric motor 
Orangatang Caguama wheels that create the best possible curves
Shop STOKE ELECTRIC SKATEBOARD
The best electric skateboards money can buy
 The Hadean Carbon All Terrain Skateboard, Bamboo 2in1 Skateboard, Stoke Electric Skateboard, and others on the Evolve Skateboards shop don't come cheap. But there is a good reason for that, and it's the fact that quality is their top priority. They haven't attempted to cut corners to cut costs. They're simply honest about what's involved in creating a fantastic skateboarding experience.
Evolve Skateboards have a range of shipping options to make delivery as simple as possible. The most crucial point to note upfront is that shipping for skateboards is free inside the EU. You can also pick up boards directly from the Evolve Skateboards distribution and service centre in Düsseldorf, Germany. You can do this by making a click-and-collect appointment. 
If you're in the EU, the purchase price will include the 19% German VAT rate. If you're outside of the EU, this won't apply. However, if you're ordering from outside the EU, you will have to pay shipping costs and relevant customs or import taxes. 
If for any reason, you need to return one of the skateboards you've bought from Evolve Skateboards, you can do this within 14 days. Your skateboard has to be unused and in its original packaging with no signs of damage. You'll need to pay the shipping costs to ship the skateboard to the Evolve Skateboards distribution and service centre in Düsseldorf, Germany.