WILLPOWER RUNNING makes running clothes for rebels who don't fit
Unique racing T-shirts, running shorts, hooded sweaters, and running accessories that stand out and show off your personality from Germany's WILLPOWER RUNNING.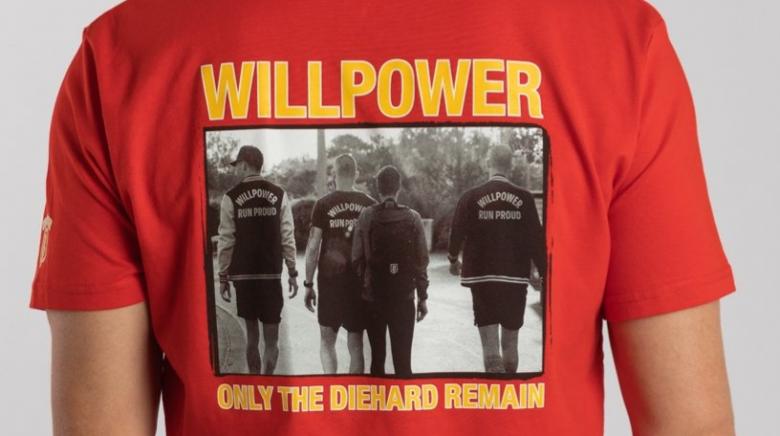 WILLPOWER RUNNING is an online store based in Germany that sells runners clothing and accessories. They do it across multiple ranges, giving their customers many choices and ways of expressing themselves through their clothes. 
These ranges include: 
Each one has a distinctive ethos explained in a short paragraph at the top of each product category. What's clear is that WILLPOWER RUNNING are unique when it comes to the clothes they sell and why they sell them.
The T-shirt in the featured photo is the ONLY THE DIEHARD REMAIN T-shirt. It's from their 90s collection and combines vibrant colours with a black-and-white photo of people wearing clothes from their RUN PROUD range.
Buy the ONLY THE DIEHARD REMAIN T-SHIRT
They also sell running shorts, which are crucial if you're planning to run in a hot climate anytime soon. Some of these shorts are called racing shorts, and others are called split shorts. Racing shorts give you a solid pair of shorts for most running you'll do, whereas split shorts are there for when you're in a competitive event. 
Why WILLPOWER RUNNING began selling runners clothes in Germany 
Chris Zehetleitner founded WILLPOWER RUNNING after seeing an ad in Runners World magazine. The ad was appealing in many ways for a runner like Chris, except for one thing. The runner in the ad was wearing neon green from head to toe. These were colours Chris would never wear in real life. 
Then he took a look at his wardrobe and noticed all of the running clothing he had didn't suit his style or personality. He just wanted to look cool, yet no runners clothes seemed to be cool enough. That's when he thought of the idea to create WILLPOWER RUNNING.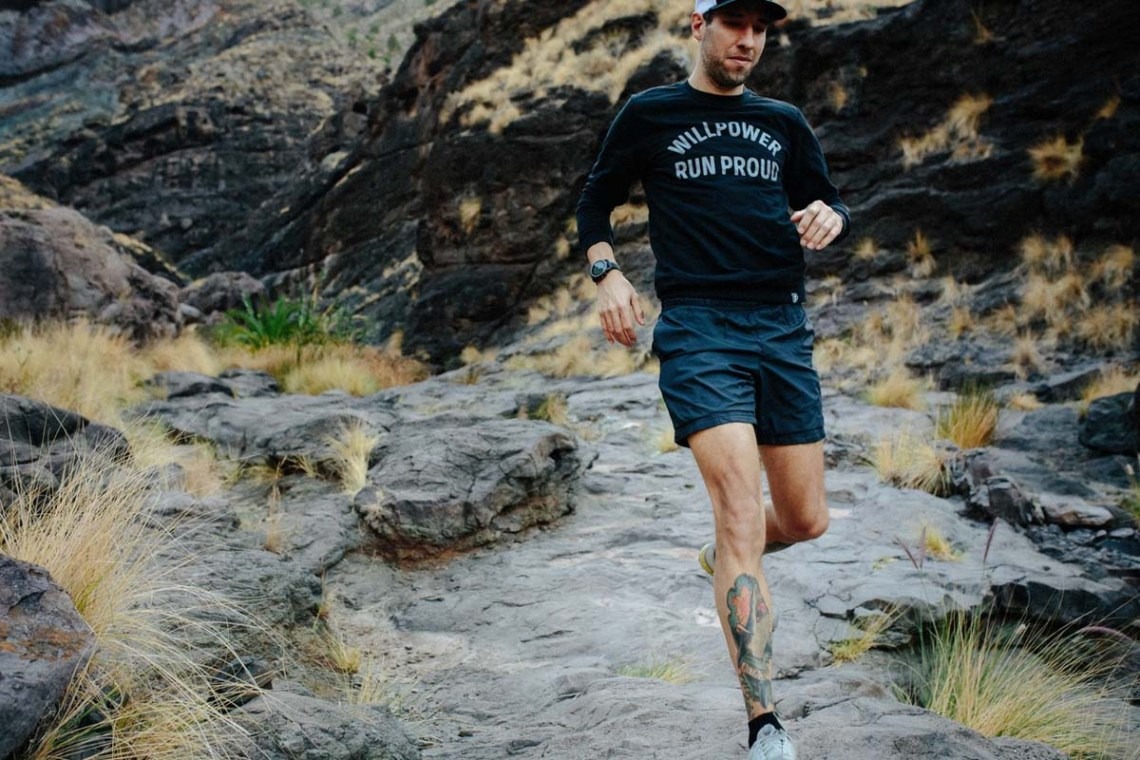 One of the ranges that his brand recently released is POISON FREE RUNNING. It's worth mentioning here because it explains the philosophy that Chris brought into his business. POISON FREE RUNNING is the idea that we need to repel negativity. In our food and drink, our thoughts, our relationships, and our behaviours. By doing that, we make our running experience even better.
Specifically, POISON FREE RUNNING means eating good food that nourishes us, keeping ourselves free of performance-enhancing drugs, and staying clear of negative emotions and low energy.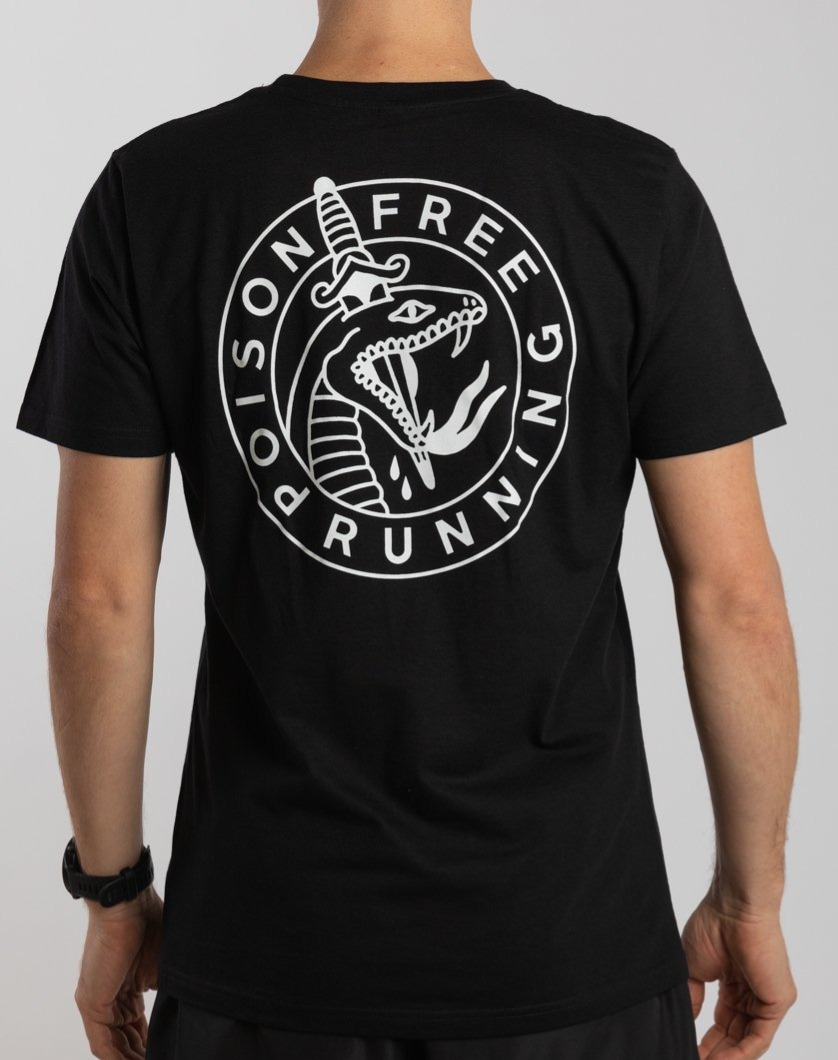 Buy the POISON FREE RUNNING RACING T-SHIRT (image above) 
 
The FORCE MAJEURE range from WILLPOWER RUNNING in Germany 
Another one of the runners clothing ranges that WILLPOWER RUNNING have on offer is the FORCE MAJEURE range. The message behind FORCE MAJEURE is making peace with the struggles that you have. They use the metaphor of a mountain. It doesn't care about you, because it's just there. You decide what to do with that fact.
Taking that into the context of running, if you're going running in the mountains, the FORCE MAJEURE range gives you what you need to look cool and feel good while doing it. 
One of the products in the FORCE MAJEURE range is the hooded sweater. You can see a picture of it below. It's currently available in the WILLPOWER RUNNING store for €59.90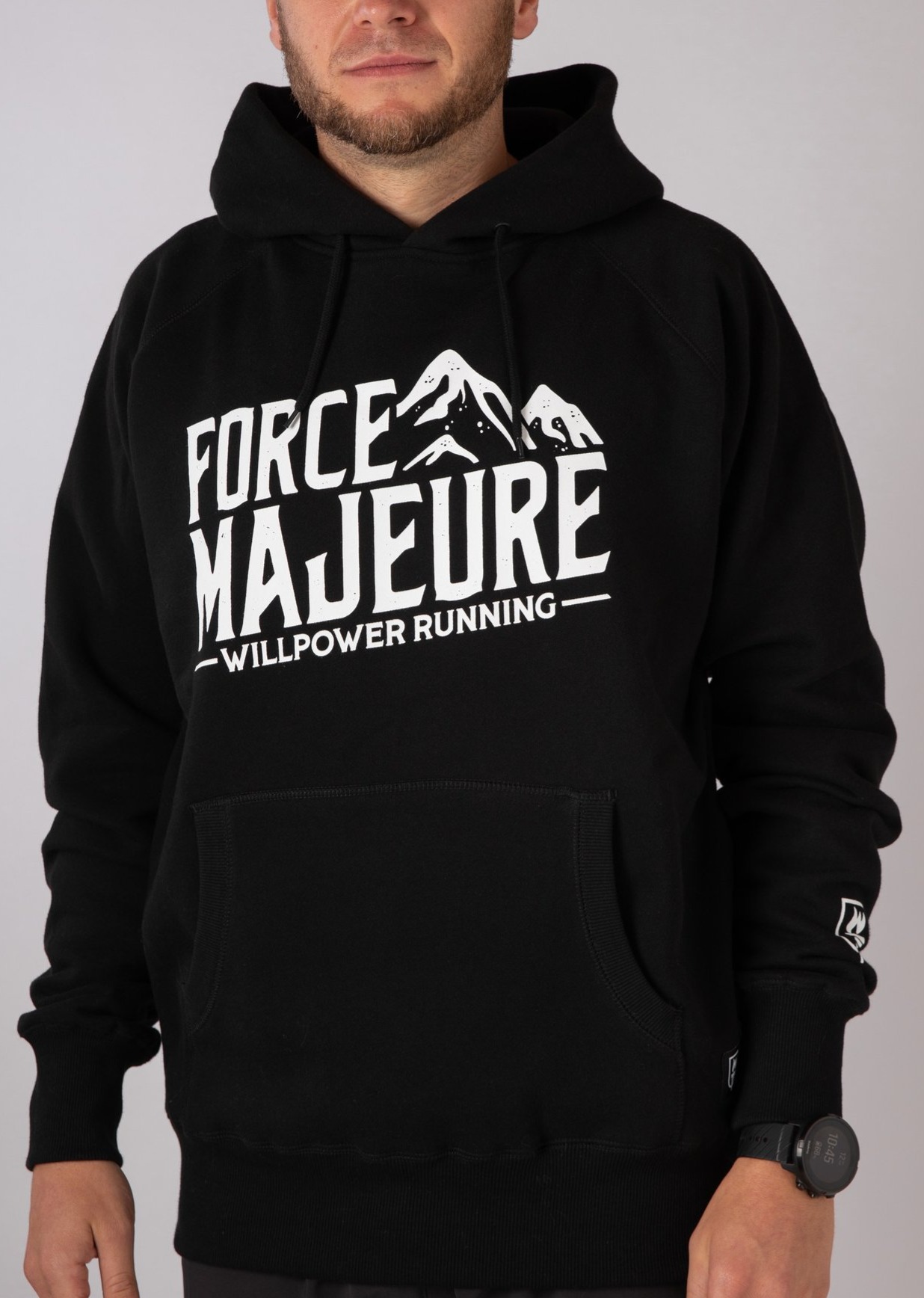 Some of its other advantages include:
Having a double-layered hood
Keeping more of your body heat close to you
Being GOTS and Fairwear certified, which means it's good for the environment 
Buy the FORCE MAJEURE HOODED SWEATER
 
RUNNING WITH ATTITUDE runners clothing from WILLPOWER RUNNING
To show off your power and fortitude, the RUNNING WITH ATTITUDE range is perfect. It's for those who want to break the mould and don't care what others think. Those who push back against self-doubt and want to finish what they start.
It's one of the smaller ranges on the WILLPOWER RUNNING store, with only 5 products available at the time of writing. These include T-shirts and a hoodie. One of these is the racing T-shirt, which is in the picture below.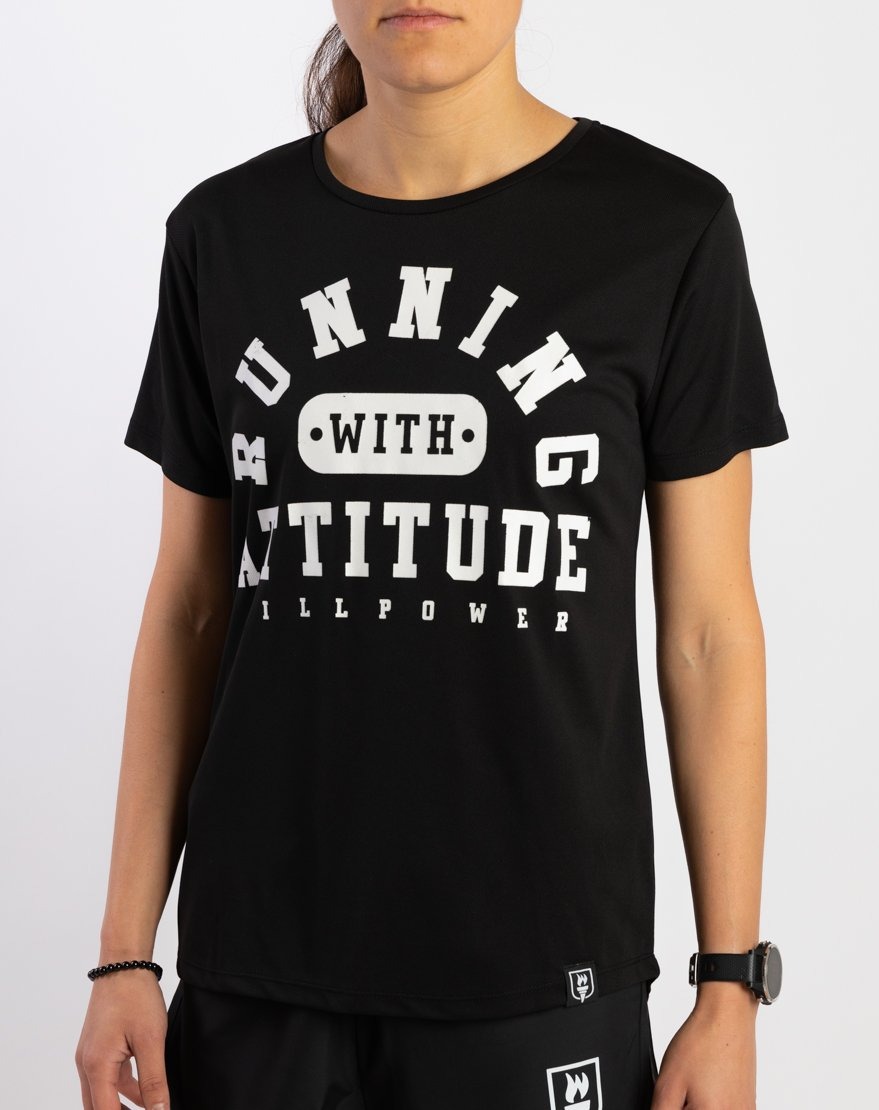 As you can see, it's got an eye-catching design that makes you look twice because of how the word "running" curves and forms a semi-circle. WILLPOWER RUNNING describe it as a functional shirt that allows you to relax while you run. It doesn't have many special features because it only covers the basics.
However, there are a few notable benefits:
It has high wickability, meaning it transports moisture efficiently 
It only costs €34.90 
It comes with no plastic packaging 
Buy the RUNNING WITH ATTITUDE RACING T-SHIRT
 
RUN TILL DEATH running shorts from WILLPOWER RUNNING in Germany
It's not only shirts and hoodies that WILLPOWER RUNNING sells in Germany. They also sell running shorts. These are very popular because they help you to keep cool. The WILLPOWER RUNNING store stocks 5 different shorts. One of these is the RUN TILL DEATH racing shorts, shown below. RUN TILL DEATH is a range for the most dedicated runners of all. Runners who don't acknowledge limits and who won't give up at any cost. They'll literally run till death. 
These are the best kind of shorts you'll find for working out and racing. They also come with an inner mesh as well as 2 large pockets, so you can keep some of your valuables with you as you run. 
They're currently available in 4 sizes. Extra small, medium, large, and extra-large. However, this reveals another advantage when you shop at WILLPOWER RUNNING. Immediately below the product listing for these running shorts is a box where you can sign up for a restock notification. All you have to do is pick the size you want and give them your email address. 
These running shorts also have a few other advantages:
They're unisex
They fit comfortably rather than tightly because of elastic drawcords
The material they're made from is breathable and dries quickly 
Buy the RUN TILL DEATH RACING SHORTS
 
RUN TILL DEATH grey cotton shirt from Germany's WILLPOWER RUNNING
Another option in the RUN TILL DEATH range is this grey cotton T-shirt. If you like a bit of colour in your running clothes, then this is exactly what you need. The green lines on the grey background make both you and the words "RUN TILL DEATH" stand out wherever you choose to run.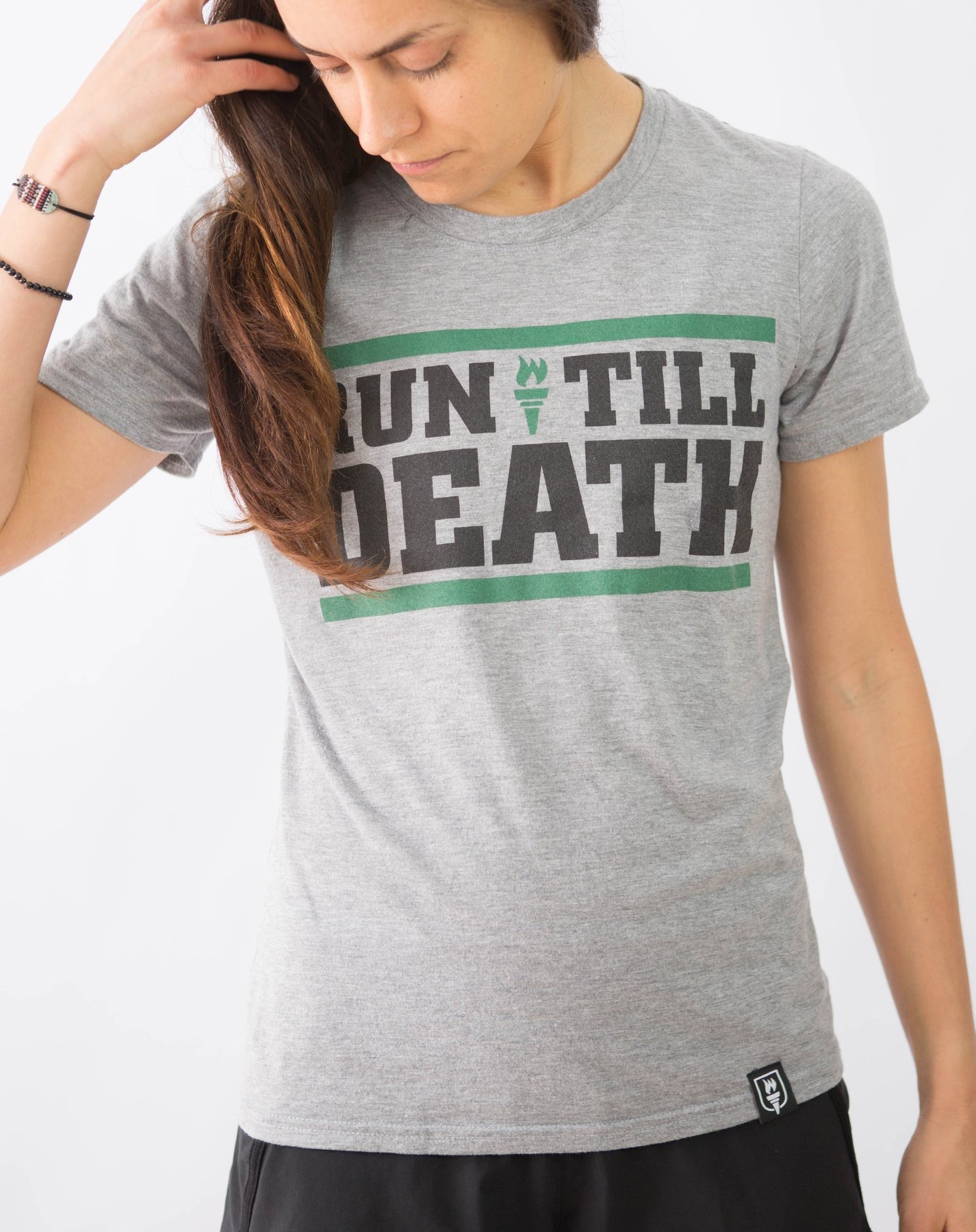 It's selling for only €34.90, so it's a bargain. It has a few additional benefits too, and these include:
Being made of 100% cotton 
Having high ethical standards applied to the manufacturing process
Being eco-friendly
​Buy the RUN TILL DEATH GREY COTTON T-SHIRT
 
Run in style with unique running clothing from WILLPOWER RUNNING
You've now seen a cross-section of the running clothes that WILLPOWER RUNNING offers in Germany. Racing shorts, racing T-shirts, and hooded sweaters are just a few of the products on offer. But what makes them truly worth visiting is the detailed philosophy and mindset they've attached to each of their unique clothing ranges. It's not often you can find that level of care and attention in an online clothing store.